Alumni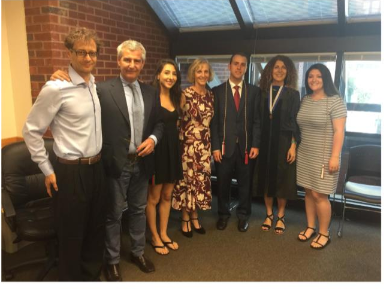 The Department of Italian is eager to hear from our alumni. We hope this section will become a good resource for our former students who would like to share their good news, memories, and accomplishments with us and their former classmates. Please send any updates and information to our Administrative Assistant Zeida Ben-Fredj Lopez (guitalian@georgetown.edu )
---
Laura Martell
Laura Martell (MA, 2016) graduated with distinction with a thesis in the history of Italian theatre.
Thesis: L'attrice come immagine pubblica: Le strategie di tre attrici del xvi e xvii secolo
---
Mariel Vazquez
Mariel Vazquez (MA, 2016) graduated with distinction with a thesis in medieval Italian literature.
Thesis: Le identità di Griselda attraverso il suo rapporto coniugale in Boccaccio, Petrarca e Chaucer
---
Francesco Rizzo
Francesco Rizzo (MA, 2016) graduated with a thesis in Italian linguistics.
Thesis: L'italiano nel nuovo millennio: un'analisi dell'italiano su Facebook
---
Jonathan Stern
Jonathan Stern (MA, 2015) graduated with distinction with a thesis in Italian linguistics.
Thesis: Espressione dell'identità etnica fra gli italoamericani di Washington, D.C.
---
Lauren Jones
Lauren Jones (MA, 2015) graduated with distinction with a thesis in film studies.
Thesis: Il cinema e le ideologie politiche alla Mostra Internazionale d'Arte Cinematografica di Venezia.
---
Madeleine Grose
Madeleine Grose (MA, 2015) graduated with a thesis in Italian and food studies.
Thesis: Dal cibo nazionale al cibo globale La digestione letteraria di un pasto storico
---
Yekaterina Nazaretova
Yekaterina Nazaretova (MA, 2015) graduated with a thesis in cultural studies (fashion and Italian literature).
Thesis: La Moda Italiana: Breve Storia Culturale Dall'ottocento A Oggi
---
Kevin Regan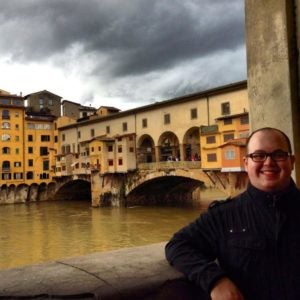 Kevin Regan (MA, 2014) graduated with distinction thanks to his excellent thesis on corrective feedback (Le strategie di gestione dell'errore nel contesto della glottodidattica delle lingue neolatine) in the language classroom. Kevin is currently doing a PhD in Romance Languages at the University of Oregon.
Thesis: Le strategie di gestione dell'errore nel contesto della glottodidattica delle lingue neolatine
---
Raquel Silva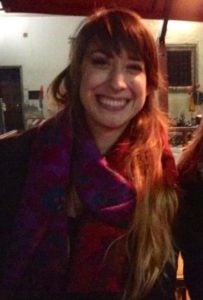 Raquel Silva (MA, 2014) Raquel graduated with a thesis on the role of the Caffé as places for cultural exchange in 19th and 20th century Italy. She is currently working as a Guest Services Representative at the Oregon Museum of Science and Industry in Portland, OR.
Thesis: Il caffè come protagonista culturale nella storia italiana
---
Courtney Owens
Courtney Owens (MA, 2013) is an Adjunct Instructor of Italian at the University of Tampa teaching Beginning Italian I, Beginning Italian II, and Intermediate Italian II. Courtney also works full-time for Hilton Worldwide in Tampa, FL.
Thesis: La donna fatale tra evoluzione ed emarginazione
---
Elise Canup
Elise Canup (MA, 2013), after graduating with distinction with a thesis on the history of Italian food, was selected for an internship at the American Academy in Rome Sustainable Food Project. She is putting to use the knowledge she acquired during her research at Georgetown in her current employment in the domain of biological farming in Virginia.
Thesis: Diventare cucina tipica: i prodotti del Nuovo Mondo sulla tavola italiana
---
Nathan Marshall
Nathan Marshall (MA, 2013) graduated with distinction in the M.A. track on the culture of Italian business. He had continued to cultivate both his linguistic and quantitative interests by working at a Minnesota tax firm while pursuing a second M.A. in mathematics. He is also studying for the third actuarial exam: actuaries need not only strong quantitative skills – measured through the examination process – but also strong communicative and interpersonal skills, which the Italian M.A. program greatly enhanced.
Thesis: Voli panoramici e il turismo culturale in Italia
---
Andrew Robbins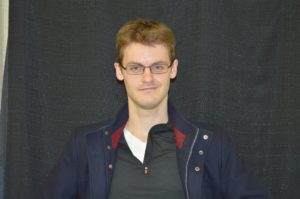 Andrew Robbins (MA, 2013) is a PhD student in Italian at Rutgers University, his interests are in translation studies and contemporary poetry.
 "Before coming to Georgetown I had no idea what I wanted to specifically study, but the variety of excellent professors in the Italian Department led me down multiple paths of inexhaustible curiosity. Having done a thesis on both translation studies and evolutionary science in 20th-century Italian literature, I decided to continue in a similar vein for his PhD at Rutgers. Now, though my interests are many (modern(ist) literature, philosophy, and translation), I focus on the intersections of science and literature in the 19th and 20th centuries. The amazing experience at Georgetown really helped    me find my vocation for my doctoral work."
Thesis: Il genio impetuoso: L'evoluzione creatrice di Italo Svevo ne Lo Specifico del Dottor Menghi
---
Michela Greco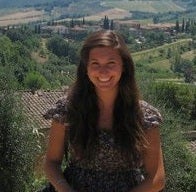 In 2012, I graduated from Georgetown with a double major in Italian and Government. After my freshman year at Georgetown, I started interning for the National Italian American Foundation (NIAF), where I applied my knowledge from the classroom to my work. I interned at NIAF for three years and was offered a full-time position as their public policy Program and Events Manager after I graduated. My language skills and cultural knowledge that I received from Georgetown and the Università degli Studi di Firenze are invaluable assets to my job. At NIAF, I oversee the organization and marketing of public policy and cultural events that focus on US-Italy relations and government relations. I serve as a liaison to the Italian American Congressional Delegation (IACD) and the Italian Embassy. I use Italian on a daily basis and, through my work, I continue to develop the education I received from my double major at Georgetown.
---
Nathaniel Lee

Nathaniel Lee graduated cum laude from the Georgetown Faculty of Languages and Linguistics with a major in Italian and a minor in Spanish. During his undergraduate studies, he spent his junior year abroad at Milan's Università Cattolica del Sacro Cuore, where he enrolled in communications coursework, an interest he had pursued as a freshman and sophomore thanks to an internship at the Georgetown Office of Public Affairs.
Nathaniel currently lives in Milan, where his experience in the fashion industry has led him to hold a variety of positions – from public relations at the headquarters of an Italian fashion house to brand communications at an international agency. His work employs his language skills in a multitude of capacities and contexts and continues to give meaning to the time that he spent on the hilltop.
---
Charlotte Lowrey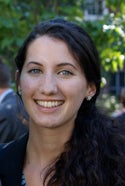 I graduated from Georgetown in the spring of 2009 with a degree in Italian and a minor in Theology. I chose to major in Italian because I loved the language's broader academic applications – especially to history and the arts. Little did I know how useful my language skills would be to me after I left the academic world and entered the workforce! After Georgetown, I found myself working for the finance department of the Solomon R. Guggenheim Foundation in New York City, which oversees the various Guggenheim museums around the world. My Italian language skills came to great use as I helped to translate documents from the Peggy Guggenheim Collection in Venice and communicated easily in a multicultural office. My language skills opened the door for me to a career in the arts and I am happy to say that I continue to use my Italian in my post-graduate studies in the History of Art at the Courtauld Institute in London.
---
Emily Langer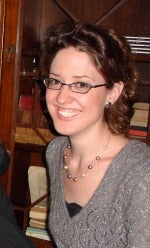 Emily Langer ('06) works for The Washington Post, where she has used her Italian for everything from translation to reporting on the death of an Italian prince known as "His Tremendousness."
At Georgetown, Emily worked as a research assistant to Professor Laura Benedetti through the GUROP program and for the Italian Department through work study. She spent her junior year at the University of Florence, where, apart from reading Dante and Boccaccio, she studied William Faulkner. Emily wrote about that class, the highlight of her year abroad, for The Post.
Emily recently received a Fulbright award to spend nine months in Italy researching the Risiera di San Sabba, a Nazi concentration camp in Trieste. This project, which she began as a sophomore when she received the Lisa J. Raines Fellowship, was the topic of her senior honors thesis in Italian.
---
Christopher Mannix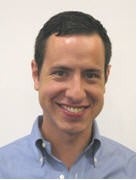 I started my career as an intern for the world-famous fashion house, Gucci (an internship made possible by way of an agreement between Georgetown's Italian Department and the company), and in fact worked, lived, and studied in Florence in anticipation of my B.A. After graduation, I worked as a strategy consultant for IBM where my mastery of other languages and understanding of multiculturalism, once again thanks to Georgetown, was quickly identified as assets, and the company soon stationed me in San Juan, Puerto Rico to work as a liaison with the Island's government.  In Italian, we say that "da cosa nasce cosa" and it was my work in Puerto Rico that caught the attention of another company, Pearson Education, which then recruited me, and where I work today. Georgetown taught me to understand and appreciate the Italian language, culture, and literature, and that experience has helped me to engage and work with clients in the United States, Canada, and the Caribbean, as they come from a variety of cultural and linguistic backgrounds.
---
Angela Vannucci
After studying at the Università degli Studi di Firenze during my junior year, I received my degree in Spanish and Italian and returned to Italy. I left the States with the idea of living one more year abroad in Italy to truly perfect my Italian language skills. That year turned into five years thanks to my multilingual communication skills, which opened many job opportunities.
While in Tuscany, I managed the Tuscan branch of Context Travel, a sustainable tourism company that specialized in didactic walking seminars. After working for a few years at Conext Travel I joined the marketing department of The Glocal Forum, an NGO aimed at promoting peace and development through city-to-city cooperation. I took on a variety of side projects, which included editing reports for the United Nations' Food and Agriculture Organization's Initiative on Soaring Food Prices, teaching English lessons, performing Italian-English translations, and updating the Insight Guide to Tuscany and the Tuscany and Umbria Berlitz Pocket Guide.
I am currently an M.A. candidate in Latin American Studies and International Economics at the Johns Hopkins University School of Advanced International Studies.
---
Erica Nonni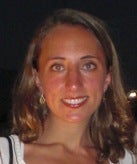 I graduated from Georgetown with a degree in Italian in 2003. I had a great experience in the Italian department! I was also able to pursue a business minor alongside my language major, which is an excellent benefit offered to language majors in the College. This education has benefitted me professionally in ways greater and more diverse than I imagined while I was at Georgetown. My first position immediately following graduation was in marketing for the International Division of the New York Stock Exchange. I now work in the wine industry, developing and implementing marketing communications plans for Italian and other European wine producers.