Student Showcase
Beginning the 2021 academic year, the Department publishes students' academic products in an effort to highlight their hard work and achievements. Please find below showcases by semester, and then once again by first- and second-year divisions.
Fall 2021
First-Years
The Students of Basic Italian with Professoressa Musti
Students in Prof. Essa Musti's Basic Italian course chose their favorite Italian Recipe and made cooking "how-to" videos. She then compiled portions of all of the videos into a single format. You can view an excerpted YouTube video (without sound) below. To view this PowerPoint with sound, click the link below:
Ariana Biondi Copeland
Students choose a favorite Italian recipe and make a video of cooking it.
Malory Montgomery & Catherine Dell'Olio
Students created a brochure for their favorite Italian city or an Italian city that they would like to visit in the future.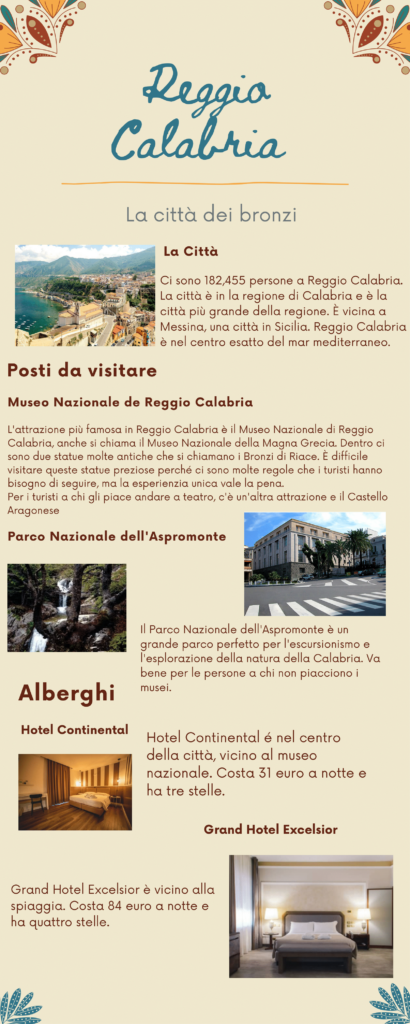 Portfolios
Students collected and reflected on their favorite assignments during the semester. This was designed to focus on language-learning techniques and experiences that had the greatest impact on their Italian studies.
Tai Markman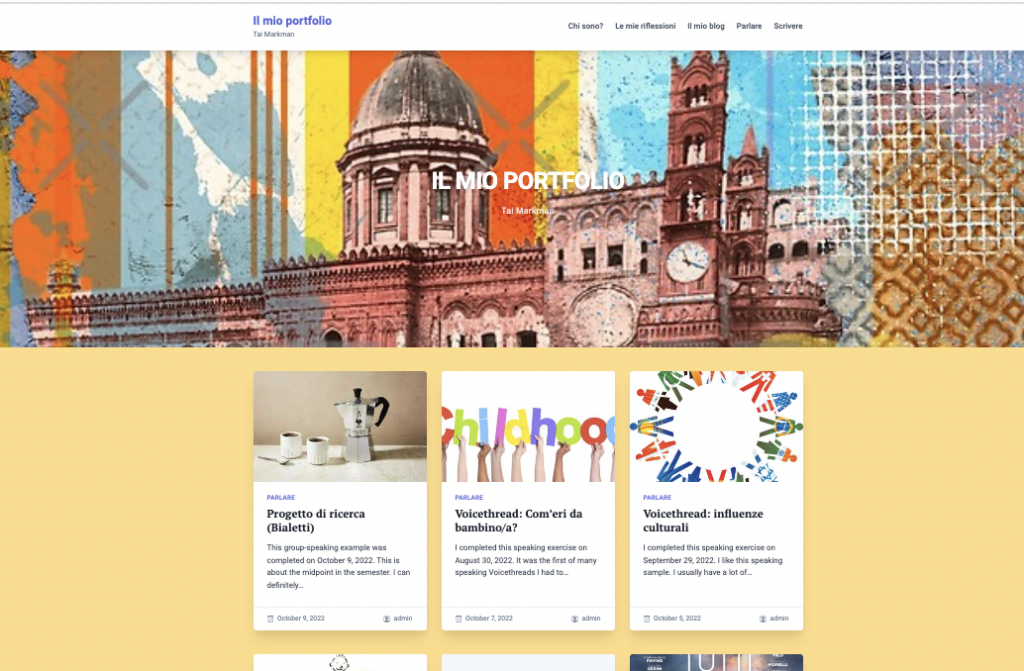 Cody Slutzky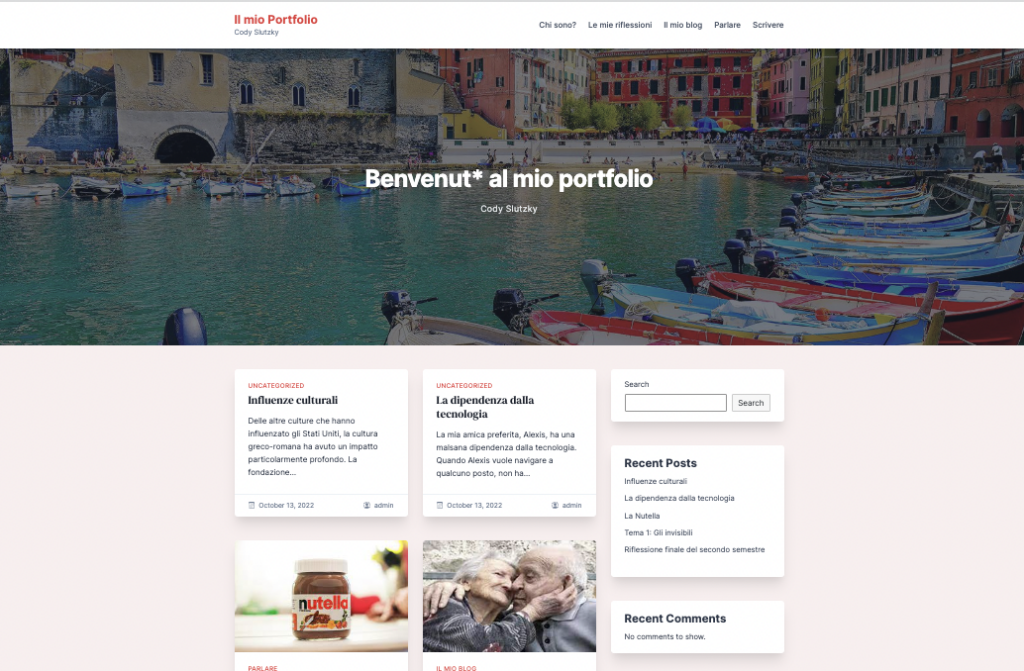 Second-Years
In Advanced 1: Italian Contemporary Culture and Society with Prof. Donatella Melucci, students develop a project about the presence and influence of Italian culture in the world, specifically in students' lives. The following are a few examples.
Progetto: L'impronta italiana nel mondo e intorno a me
Fare una piccola ricerca sull'Impronta italiana nel mondo.
Cercate di esempi della cultura italiana nel vostro Paese e intorno a voi. Può essere un personaggio, o un esempio nelle arti o nelle scienze, oppure qualcosa di più personale come un vostro familiare o amico.
Project by Nicholas Lynch

Project by Isabella Dujarric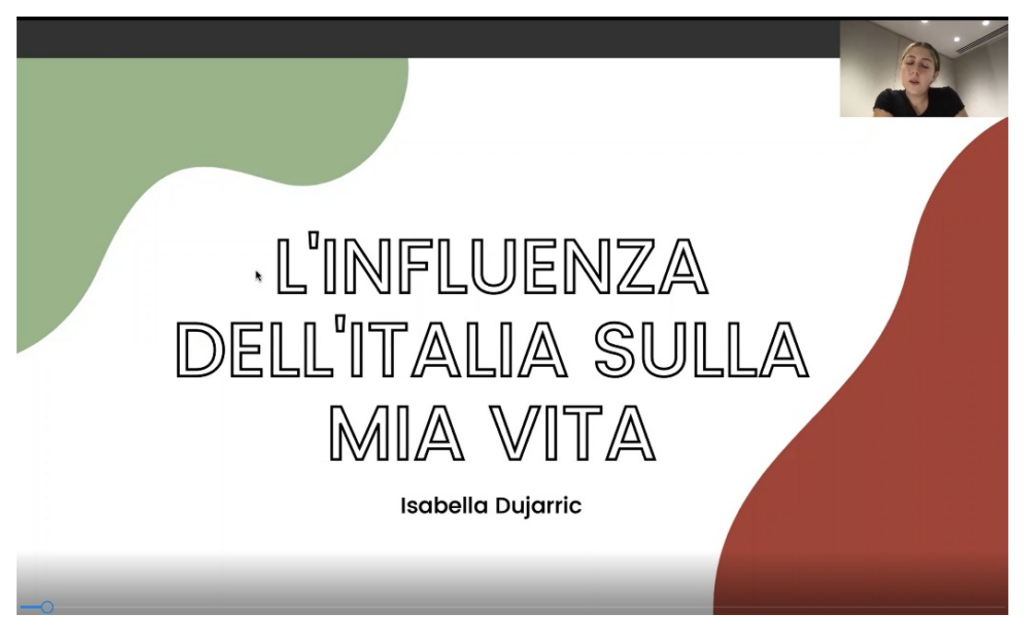 Il Mio Portfolio
These are two examples of Il Mio Portfolio projects for Advanced I:
This semester we had wonderful and enthusiastic students in both sections of Advanced II: Italian Traditions, History, and Art. As in all our language courses, we learned the Italian language and explored Italian culture. Our students developed two main projects where they could combine what they learned linguistically and culturally.
MIDTERM PROJECT: BE AN AMBASSADOR FOR AN ITALIAN REGION (OR CITY), ITS CUSTOMS, AND TRADITIONS
In the first part of the semester, we learned about Italian regions, their tradition, and customs but we also talked about how food can be the vehicle of memories.
The following is an example from Isabella Dujarric's presentation in which she was also able to incorporate her personal experience.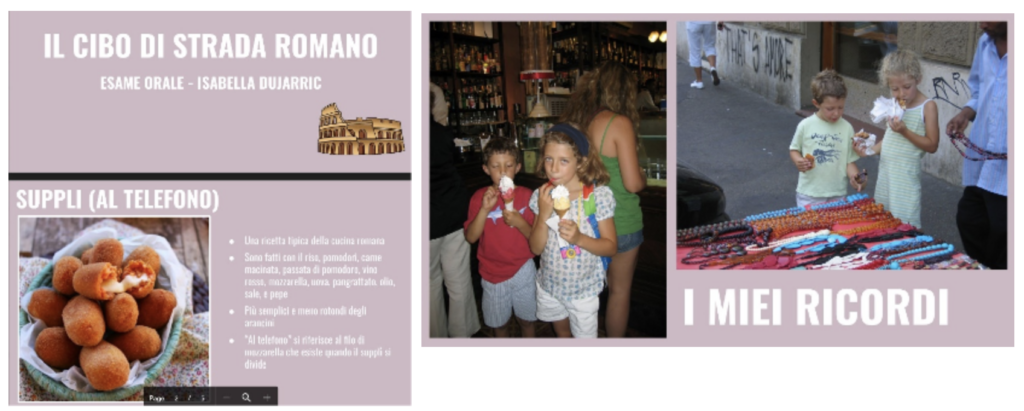 FINAL PROJECT: ITALY FROM WORLD WAR II TO TODAY
In the second part of the semester, we learned about Italian history from WWII but we also covered Italian art. Students researched and presented on a specific topic. The following is an example from Juliana St Goar's presentation.

Il Mio Portfolio
These are two examples of Il Mio Portfolio projects for Advanced II: