Oluseyi Osobamiro and Caroline Cosovich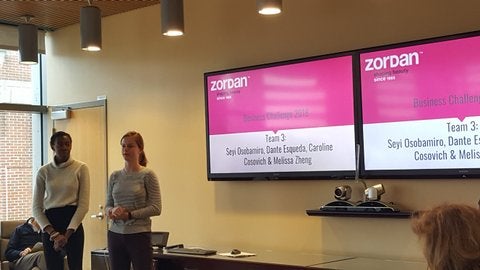 Department of Italian students, Oluseyi Osobamiro and Caroline Cosovich participated in this program in 2018. Here's what they have to say about their experience with Zordan, a luxury home furnishing company located in Milan.
Oluseyi Osobamiro
Through the Italia Innovation program I was able to travel to Valdagno, Italy for a two week internship with the Italian shopfitting company Zordan. I was able to be a part of this experience after my team participated in a one day Innovation Solutions Workshop where we competed with other teams to craft a business plan for the company. After we won the competition we kept in contact with Zordan and were awarded a two week internship with their company in Italy as well as a one week internship with their local branch called Woodways in Michigan.
For my two week experience in Italy, my team and I were first given a week to explore the Veneto region of Italy. This was especially transformative because we were able to understand the roots of the company as well as how factors such as architectural style and histories of business giants have impacted the company as well as the entire region itself. The company arranged for us to visit Vicenza, Padua, Venice, and Verona. For each visit we had a tour guide meet us and show us famous sights, museums, restaurants, and more. We were able to see how distinct each place was and the beautiful culture that it possess. On the second week we worked within Zordan alongside the members of the company. Each department explained what they do and how it contributes to the company's success. We also had a tour of the production plant and were able to see the actually fabrication of the furniture which Zordan ships to its buyers. At the
end of the second week we presented our findings in a report, which we later referenced for our work in Woodways.
For our final week in Woodways in Michigan, we worked to create a comprehensive business plan that was based on research into future markets for nationwide expansion of the company. As a team we did a lot of hands on work such as analyzing market trends, brainstorming marketing tactics, and even crunching numbers to determine appropriate investments for a financial plan. It was an intensive week, but at the end we had completed a business plan which we presented to the heads of both Woodways and Zordan in addition to other members of the board.
What I loved about this experience is that unlike other internships where you simply make copies or fetch coffee, my team and I were given a real problem to tackle. I was able to use the skills I had learned at school and apply them to an office setting. Additionally, the company which I was fortunate to work with gave us time to experience the culture of the area and worked hard to make sure that we felt like members of the team and not just external individuals. This experience was one that I truly learned much from and was happy to have embarked on.
Caroline Cosovich
Working at Woodways in Michigan this summer offered an enlightening experience into the world of the custom-made business. With the new Italian ownership, my partners and I felt welcomed at all times and I was able to practice my Italian language skills with native speakers. The internship entailed a balance of structure and freedom: we worked the same hours as full-time employees and were present for meetings and client visits
during the work day and then were able to explore and rest in the evening. Visiting the factory where all the manufacturing is done was fascinating and allowed us to understand Woodways' capabilities and goals. The tasks we were assigned to essentially present at the end of our stay were sometimes challenging, which allowed us to develop new business skills, regardless of our lack of experience or background.