Upcoming Events
Check back here often to find announcement about our department's upcoming events!
Be sure to also join our mailing list and follow us on Instagram to receive updates!
Fred Kudjo Kuwornu, Black Lives Matter in Italy and the Legacy of Colonialism – February 17, 2021
Attend the event on Zoom here!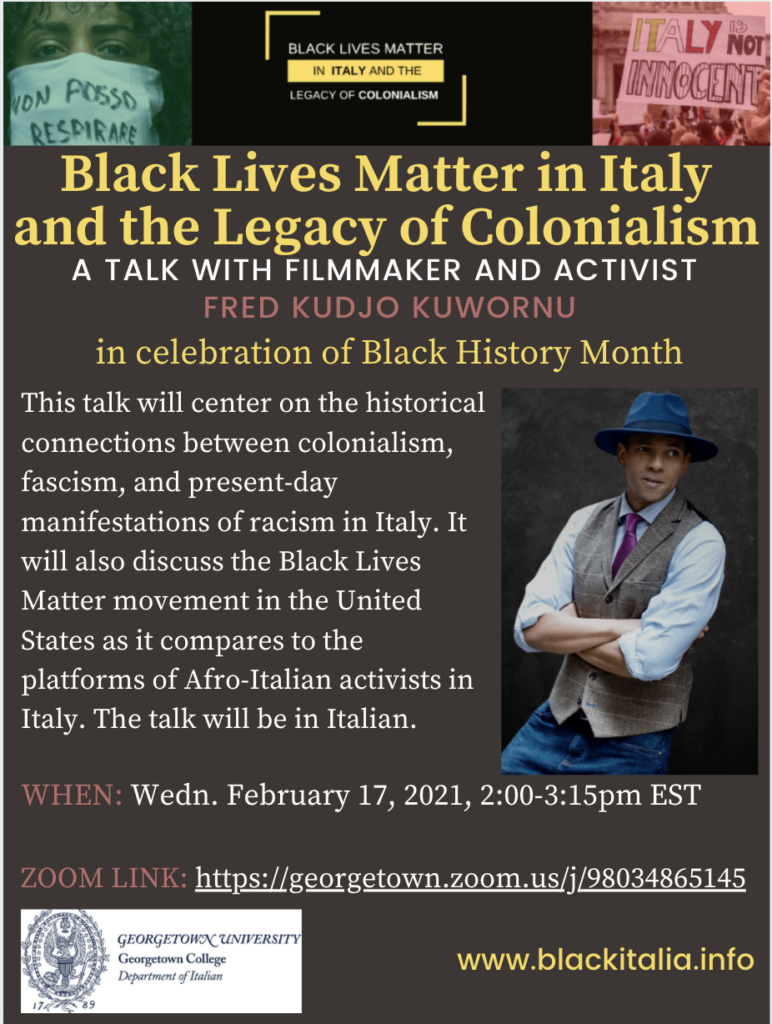 Maaza Mengiste and The Shadow King – February 25, 2021
Register here!
On February 25, 2021, in celebration of Black History Month, the Department of Italian, the Department of African American Studies, the Georgetown Humanities Initiative, and the African Studies Program at the Walsh School of Foreign Service will host Ethiopian-American award-winning novelist Maaza Mengiste, who will discuss her most recent novel, The Shadow King, which was shortlisted for the 2020 Booker Prize and was a 2020 LA Times Book Prize Fiction finalist.
Maaza Mengiste is a novelist and essayist whose work examines the individual lives at stake during migration, war, and exile, and considers the intersections of photography and violence. Her second novel, The Shadow King, called a "lyrical, remarkable new novel" by The New York Times, takes readers to 1935 Ethiopia during the invasion of Mussolini, what many consider the first real conflict of World War II. The novel revolves around an army of ordinary women—since left out of the historical record—who join the front lines to fight the fascists. Salman Rushdie defined The Shadow King as "a brilliant novel…compulsively readable." Now available in paperback, Mengiste's novel was named best book of the year by the New York Times, NPR, Elle, and Time.
The event will begin with a lecture by Mengiste, followed by a panel discussion and Q&A session with the audience.
Panel Participants:
Laura Benedetti – Laura and Gaetano De Sole Professor of Contemporary Italian Culture (Department of Italian)
Dayo Gore – Associate Professor of African American Studies (Department of African American Studies)
Nicoletta Pireddu – Inaugural Director, Georgetown Humanities Initiative
Lahra Smith – Associate Professor, African Studies Program & Department of Government Director (African Studies Program, SFS)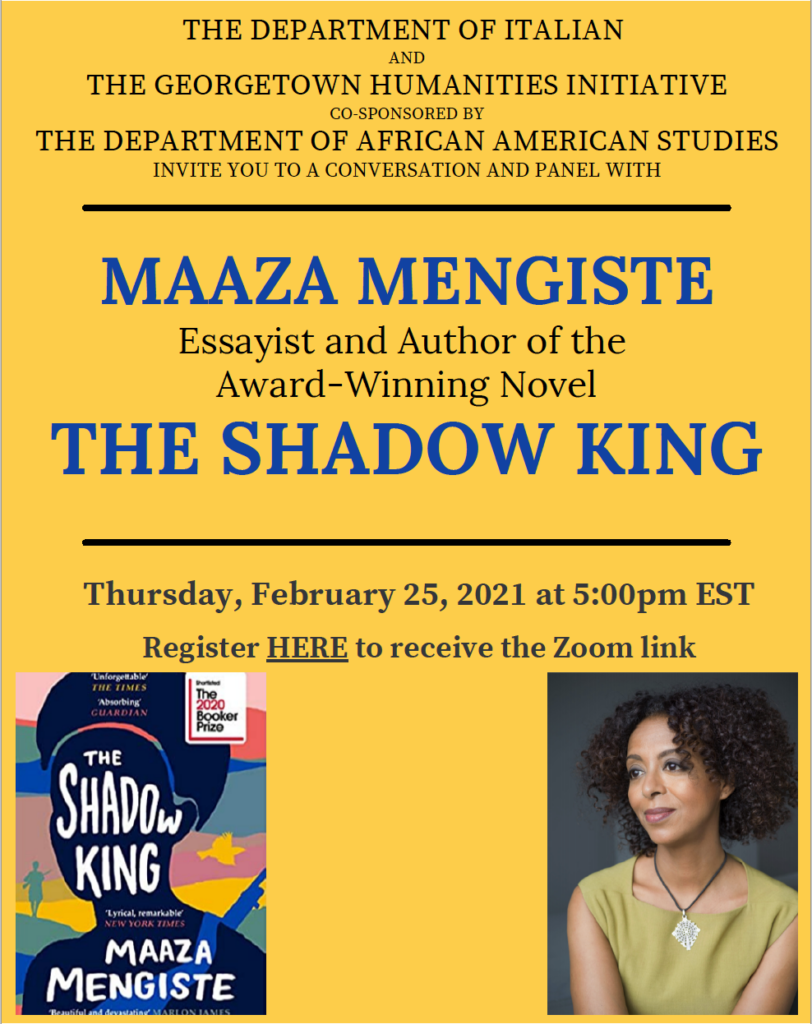 Italian Department Essay Contest – May 8, 2021
Click here to register!